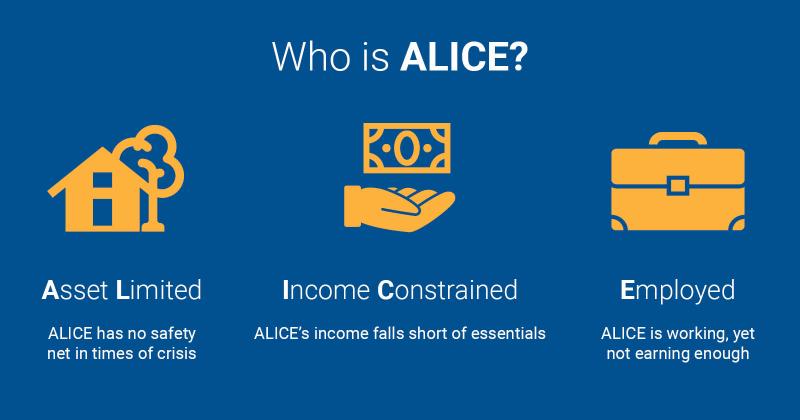 31% of hardworking Arkansas households have incomes which exceed the Federal Poverty Level, but are not high enough to cover their basic needs. We call them ALICE: Asset Limited, Income Constrained, Employed. You know ALICE as the proud, hardworking people who are essential to our everyday lives, caring for and educating our children, maintaining our infrastructure, and making sure there is food on the shelves of our local grocery stores. 
ALICE Households in Pulaski County
47%
Families living above the Federal Poverty Line but below the Household Survival budget are ALICE:
Asset Limited, Income Constrained, Employed. 
In Pulaski County: 17% of households fall below the federal poverty line. 31% of households are ALICE.
What's the Household Survival Budget for our Community? Click through to learn more.
Household Survival Budgets
Family With Two Children
Pulaski County
---
Monthly:
$5,063
---
Hourly Wage:
$30.38
total ($15.19 each adult.)
Budget reflects 2021's Child Tax Credit (CTC) and
Child and Dependent Care Tax Credit (CDCTC)
Senior Survival Budget
Pulaski County
---
Monthly:
$2,259
---
Hourly Wage:
$13.55
How does that compare?
Federal Poverty Line
4 people, Monthly:
$2,500
Federal Poverty Line
1 person, Monthly:
$1,215
Arkansas's Minimum Wage
(2023):
$11
Previous
Next
Together, we can support ALICE.
ALICE is critical to our lives and our economy - from keeping grocery stores running during the pandemic, to providing care to our children and families. Together with our partners and your support, we're acting as scaffolding for ALICE individuals and families, coming alongside them to build a stronger future.
United Way: Investing in ALICE
After-school tutoring and mentoring programs not only empower children from ALICE households, but provide their parents a needed source of meaningful, high-quality childcare while they work.
 
United Way funded partners provide educational supports to ALICE families, including books for early learners. 
United Way supports a variety of programs that empower ALICE for the future, from adult education to job-skills training.
 
In times of crisis, ALICE is supported by one-on-one case management to build toward stability in employment and housing.
United Way has a long-term track record of partnering with agencies who respond to mental health challenges - including the impacts of stress on ALICE families.
 
When the cost of prescription drugs is prohibitive, we keep ALICE families healthy with investments in prescription drug assistance programs.
Learn More from our Partners